Our senior people actually do the work. (Do theirs?)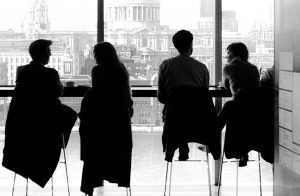 Results matter – but getting them requires a team with experience, judgment and expertise.
Our account teams are run and staffed by experienced, senior-level professionals with backgrounds in large New York communications agencies, major corporations and media.
We are problem-solvers, strategists and writers. We understand treacherous market landscapes and have years of experience across economic cycles.


Senior Strategist GREG MILLER has worked extensively with financial and professional services clients of all sizes to create, implement and manage effective communications programs across a variety of platforms. Greg has extensive experience with private equity sponsors and other financial services companies as well as branding, media and retail clients. He has also been a senior manager at major New York PR firms and a former Senior Writer at Institutional Investor magazine.
Senior Account Manager TRACY VAN BUSKIRK has worked closely with clients like Guy Carpenter, Nordson Corporation and Momentive Performance Materials on media positioning and thought leadership campaigns.
Senior Media Director ROSALIA SCAMPOLI has in-house experience at Deutsche Asset Management and Royal Bank of Scotland and has worked at large agencies, including Morgen-Walke Associates and Brouillard Communications.
Director of Client Services LAURA BROPHY has worked with clients ranging from private equity investors such as THL Partners and Altus Capital Partners to emerging financial sector innovators like Loan Value Group and start-ups like Trevi Therapeutics.
Senior Writer JOAN MOTYKA brings more than two decades of experience as a senior editor and manager at The New York Times.
Client Support Manager SUE MATTISON has more than 15 years of experience working with clients on billing and accounting issues.
Marketcom Public Relations